WHY? I Fell in Love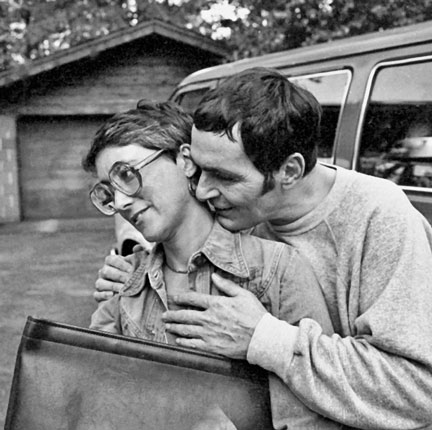 (Art and I met in rehab—in Santa Monica in 1969. I was being rehabilitated and he was recuperating.)

From the Memoir: Years later Art described me to myself as he first saw me––as I sat there, oblivious, across from him on the Synanon bus:

Her hands were delicate, artistic hands; her legs were beautifully shaped. She had little sandal kinda things on and she had the cutest little feet like little doll feet with cute little toes. I couldn't tell whether she was looking at me, but all of a sudden it seemed to me she opened her legs up a little bit and I felt certain she was doing it on my behalf. I could see up underneath her dress. It was a very short dress, and I could see these purple little panties, and that really turned me on. By then I didn't even bother to look away or try to be cool. I just devoured her with my eyes. The bus stopped, and I was trying to think of something to say, but she just got off the bus real quick and she was gone. Usually, I had no trouble talking to a woman. I would just talk to any of them and say anything. But with her I couldn't seem to get anything out. I followed her. I saw the place that she went into and I asked somebody who the girl was in the purple dress. They said, "Laurie Miller." That was it. I went back to my dorm and I just kept thinking about Laurie Miller and those panties. I said, 'Laurie Miller. That's for me.' I said, 'There's no question about it. I'm going to start a campaign starting tomorrow. I'm going to get her or else.'

"On my behalf!" That phrase still gets me. This is how Art spoke to me, right from the start. He got so personal. He shocked me, made me blush. He made me laugh. He flattered me but so peculiarly. A girl gets used to "lines," gets bored with them. Art wasn't glib. Instead he seemed to offer me his famished, childish, lusting soul.